CO2 (Clean Agent)
Suitable for class BC fires
---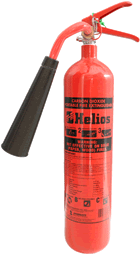 Capacity: 5.0 lbs or 2.27 kg
Discharge Time: 12 seconds(approx.)
Dishcarge Range: 3 meters
Working Pressure at 28°C: 812 psi
Test Pressure: 3,625 psi
Temperature Range: -20°C to +60°C
Chemical Content: Carbon Dioxide
Fire Rating: 34B
Gross Weight: 20.0 lbs or 9.09 kg
To know more about this product, email us your name, phone# and address to
our sales team
.

Capacity: 11 lbs or 5.0 kg
Discharge Time: 23 seconds(approx.)
Dishcarge Range: 3 meters
Working Pressure at 28°C: 812 psi
Test Pressure: 3,625 psi
Temperature Range: -20°C to +60°C
Chemical Content: Carbon Dioxide
Fire Rating: 55B
Gross Weight: 35.2 lbs or 16.0 kg
To know more about this product, email us your name, phone# and address to
our sales team
.