AFFF (Aqueous Film Forming Foam)
Suitable for class AB fires
---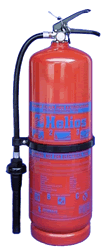 Capacity: 9.0 liters or 2.4 gallons
Discharge Time: 67 seconds (approx.)
Discharge Range: 6 meters
Working pressure at 28°C: 195 psi
Test pressure: 362 psi
Temperature Range: +5°C to +60°C
Chemical content: Aqueous Film Forming Foam
Fire Ratings: 21A:183B
Gross Weight: 30.8 lbs or 14.0 kg
To know more about this product, email us your name, phone# and address to
our sales team
.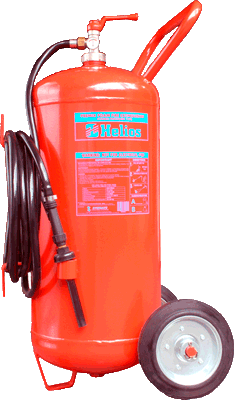 Capacity: 45 liters or 12 gallons
Discharge Time: 85 seconds (approx.)
Discharge Range: 10 - 12 meters
Working Pressure at 28°C: 195 psi
Test Pressure: 362 psi
Temperature Range: +5°C to +60°C
Chemical Content: Aqueous Film Forming Foam
Gross Weight: 200 lbs or 90.0 kg
To know more about this product, email us your name, phone# and address to
our sales team
.